How SvaroopaŽ Yoga Helped
Testimonials
Maria is an amazing Svaroopa Yoga instructor! She taught me a custom-designed routine with a private 60-minute session in her home yoga studio.
The release I felt in my hips, lower back and shoulders was incredible. And I can do this Yoga in my home. The remarkable thing is how aware I am now when I am holding myself rather than allowing the body to be natural.
Monthly sessions with Maria sharpened my skills and enabled me to learn new positions I could work into a flexible 14-40 minute routine. Thank you so much, Maria, for your time, skill, grace and gentle teaching method.
Jacqueline Z.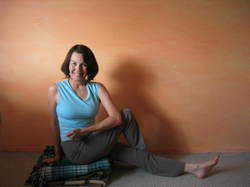 The Svaroopa® class has provided me a scientific as well as physical framework for my own personal growth and consciousness as well as the obvious physical benefit.
It speaks to me and fits when other yoga styles, while valuable, did not have the strong draw and attraction.
I have noticed increased energy, lower blood pressure, as well as a more optimistic outlook on life.
I walk differently and experience less body pain.
Gordon

Schedule your session by E-mail: Deepaa@blissyogi.com or