How SvaroopaŽ Yoga Helped
Testimonials
Testimonial:
Before the "shelter-in-place" edict, I had heard of Zoom but had never used it. Now, I take four or five Yoga classes and one Tai Chi Qi Gong class each week as well as numerous meetings on-line, all via Zoom. Of these on-line classes, Deepa Maria's are the best.
Her teaching style is particularly well suited to providing a virtual experience that is in almost every way as good as her in-person classes (which were also outstanding). I count on these classes to nourish my body and my spirit and to remind me of the normal lifestyle to which we will return in due course.
Thanks and Namaste!
Mike Caruso
*****************************************************************
Maria is an amazing Svaroopa Yoga instructor! She taught me a custom-designed routine in a private 60-minute session in her home yoga studio.
The release I felt in my hips, lower back and shoulders was incredible. And I can do this Yoga in my home. The remarkable thing is how aware I am now when I am holding myself rather than allowing the body to be natural.
Monthly sessions with Maria sharpened my skills and enabled me to learn new positions I could work into a flexible 14-40 minute routine. Thank you so much, Maria, for your time, skill, grace and gentle teaching method.
Jacqueline Z.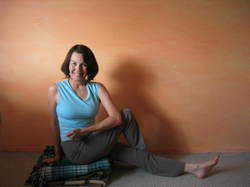 "The SvaroopaŽ class has provided me a scientific as well as physical framework for my own personal growth and consciousness as well as the obvious physical benefit. It speaks to me and fits when other yoga styles, while valuable, did not have the strong draw and attraction. I have noticed increased energy, lower blood pressure, as well as a more optimistic outlook on life. I walk differently and experience less body pain." Gordon
To whom it may concern, I am a fifty eight year old...soon to be fifty nine that has been plagued by chronic back pain for the past three years. As CEO of a multinational company, I have traveled, entertained and generally stressed my body for 30 plus years. In addition, I was an avid runner for over 20 of those years adding additional punishment to my joints and back.
Before taking extreme measures such as shots/surgery, my general practitioner suggested that I try yoga. To say the least I was skeptical. I met Maria sometime in October to give yoga a try.
What a difference it has made! I witnessed improvement from the very first session. The improvement has been steady and actually quite dramatic over the past several months and sessions.
I can now lead an almost totally pain free existence. I am doing activities that I never thought I would do pain free again.
I am working, traveling and prospering...without severe back pain. Lol, I take my yoga blocks with me on the road now. I couldn't be in this position without Maria.

Sincerely

William Kosis
CEO PNC Business Credit
Schedule your session: Deepa@blissyogi.com or 619.813.6733